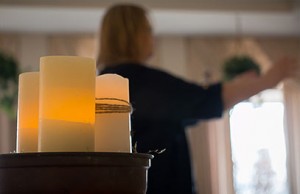 Deaconess Nurse Ministry is a registered 501c3 organization. While we receive limited funding through partners and grants, our organization and nurses are primarily funded by private donations.
We believe strongly in the work that we are doing in the St. Louis Region and beyond, and we appreciate your support that allows us to keep our movement moving forward.
Thank you!
Other Ways to Give
Health Impact Society – Our Monthly Giving Program
Make a monthly financial gift to DNM for a full year and further your impact.  It's easy to register and you could save lives!
Stock, Securities, IRA and Other Distributions 
We accept various types of stock and retirement account donations. If you're interested, please contact Emmy Guthrie at adm@faithnurses.org or (314) 395-4655.
We now accept Bitcoin donations.