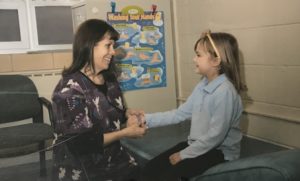 Each Saturday evening, Leesa Richardson RN serves low-income and homeless residents in Washington, Missouri as part of St. Peter's United Church of Christ Harvest Table Ministry.
Leesa has been a Faith Community Nurse at Deaconess Nurse Ministry for three months. During her time at Harvest Table, she's grown her ministry to engage with 25 – 30 people weekly. Her work includes prayer, social service assistance, and preventative health screenings. She also provides health education on several topics.
"Each week something touches my heart. I approach every situation with an attitude of how can I help someone today where they are," says Leesa.
Her eagerness to help is felt in the hearts of many. She's developed trust with her clients, and she's proud that she's now on a first name basis with many.
"The highlight of the evening is when I am awaiting my hug and they're awaiting theirs."
With a loving heart, Leesa finds ways to advocate for her clients.  She currently works weekly with a teenage girl that is 7.5 months pregnant and was homeless after her parents removed her from their home.  When Leesa met the girl,  she hadn't received any prenatal care. But, through her representation, the girl now has the resources she needs to have a healthy birth and child. The girl has regained her confidence, and she is not afraid to approach people for help.
The girl is not the only person Leesa has served that is more confident from her ministry.  Most clients have regained a sense of purpose and enjoy the community the Harvest Table offers.
"People shouldn't be afraid to ask for help. Everyone needs guidance in their life, and some people have more access to that than others.  Those fortunate enough to have it should lift up those without, rather than judge. Everyone deserves a first or even second chance, " says Leesa.
We thank Leesa for her faith, compassion and willingness to serve all people.