About the Program 
Within the Congregational Nurse program, faith community nurses collaborate with a congregation or house of worship community to customize a program that meets the unique and particular needs of their congregation.
Most often the services provided will include:
health screenings and assessments
health education for individuals and groups including: healthy lifestyle workshops, disease prevention, and chronic disease management
medication management
fall prevention and safety trainings
appropriate health care, social service referrals, and spiritual care to nursing home and homebound house of worship members and/or community members
individual health care advocacy and grief support patients and family members.
Program By the Numbers:
People served through our Congregational Nurse program in 2018:
We currently serve nine congregations located in St. Louis City and County, St. Charles and Jefferson Counties in Missouri, St. Clair and Madison Counties in Illinois. We are an interfaith organization serving congregations that have a variety of faith backgrounds including: Roman Catholic, United Church of Christ, Episcopalian, Lutheran, Methodist, and Non-denominational.
The Congregational program has served 628 children, youth and adults, who are congregational members or members of the community that the congregation serves.
Through our work to in houses of worship, 37% of people with high blood pressure received education and were able to reduce it to safer levels.
Walter's Story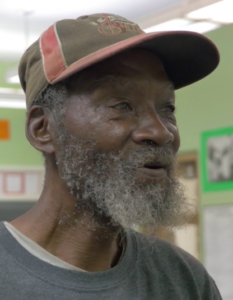 Walter, age 70, has never been married, He says, "I just never found the one." He worked most of his adult life as a janitor, and he was able to purchase his home. Overall, he's proud of the things he's done in his life.
However, his house now has challenges. The steps are leaning, the air conditioner is propped in the window, and the roof leaks.  His health is declining as well. All the years of smoking and high blood pressure makes everyday living difficult.
He's unable to see his doctor as regularly as needed and that has limited his access to blood pressure medication. So, he quietly visits the Deaconess Nurse's office in his church to receive blood pressure checks and diet advice. The nurse helps Walter connect with his physician to get medication. And, she teaches him about the new medication – how and when to take it, along with any side effects and how to deal with them. The nurse also helps Walter get nicotine patches so he can stop smoking.
For his home, the nurse has referred him to several city programs that can provide funding and support. Little-by-little, his home is improving.
Walter's life is changing, and he's feeling prideful again because of our nurses help. Without his church's connection to our services, he might've never received the support he needed. He's grateful.