About the Program
At community faith-based sites such as food pantries, community and daycare centers, Faith Community Nurses serve low-income adults through whole-person health care that addresses physical, mental and spiritual needs.
The Community Outreach Nurse program provides registered nurses at 15 community-based sites across the Greater St. Louis region. Our nurses strive to prevent or minimize illness by working with the individuals across time with a whole-person approach in a known trusted community setting.
Our nurses provide:
health screenings/assessments
appropriate social service referrals
health education and disease prevention
chronic disease management
medication management
fall prevention and safety training
Program by the numbers:
People served through our Community Outreach program in 2018:
The Community Outreach Nurse Program provides registered nurses in 15 community based sites.
902 vulnerable adults and 147 children in St. Louis City and County, St. Charles and Jefferson Counties in Missouri, St. Clair and Madison Counties in Illinois.
Through our work, 30% of the clients who had high blood pressure on the initial visit with the nurse have reduced their blood pressure to the normal range.
L.A.'s Story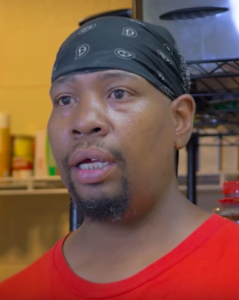 L.A. came into a outreach center on North St. Louis City seeking a place to keep warm from the bitterly cold weather. His large size and tough talk caused others to recoil in fear.  However, in his heart, L.A. was living in fear as well, wondering if there was a way to get past the drugs and gang life he found himself imprisoned.
Long ago, he wanted to be a chef, but the street life had taken over and his dream was lost. But, in the comfort of the outreach center, he felt empowered and was determined to rediscover his passion. He was willing to take the hard steps to achieve his dreams.
One of the first steps was meeting with a faith community nurse onsite to evaluate his overall health. At first, he was resistant in meeting, even exclaiming, "You don't need to do anything for me." But, he quickly opened up to the nurse when he realized she was there to help with no judgment or harm.
L.A. listened, and he came back to see the nurse regularly. She helped him get into a clinic to see a physician. She found a place for him to stay. She gave him advice on foods that might help with his blood pressure and she worked with him on ways to reduce his anger.
From the nurses' support, L.A. now is healthy and has a full time job as a chef. He is no longer homeless and owns a home.  When not working, he volunteers in the kitchen at the outreach center. He says, "When clients eat my cooking, they happily fill their stomachs. That makes me happy and I am serving the Lord with gladness. I saw God in the nurse and that helped me to know that God was with me.
Facts Behind the Program: 
Research has shown that adults in poverty have the worst health indicators.
Adults who visit food pantries are twice as likely to have diabetes as those who do not.
Low-income African Americans who have high blood pressure are nearly two-thirds more likely to not be knowledgeable about the disease or its treatment.
Without effective screening and education for low-income adults, chronic conditions will lead to increases in emergency room visits, hospitalizations, medical care spending, disabilities, poor quality of life, lost productivity and death.
Low health literacy is a factor in low-income adults understanding and acting appropriately when signs and symptoms of disease appear.
The Centers for Disease Control and Prevention reports that "having access to high quality and affordable health care prevention measures in the community, including screening and appropriate education and follow up, are essential steps in saving lives, reducing disability, and lowering medical costs".